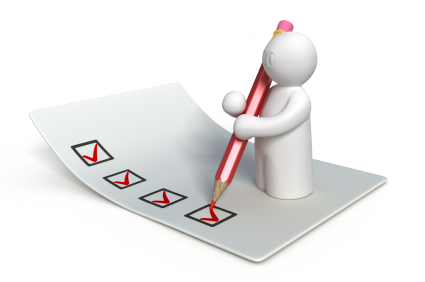 Thanks so much to everyone who participated in my survey that I sent out at the end of December!
I really appreciate you taking the time to do that!
I have already started implementing some changes based on the feedback that I got.
The survey gave me some really good insights.
Here are some of the results, if you are curious.
One thing I didn't realize is that several of my newsletter readers were unaware that I had a website outside of the newsletters.  To fix this I added a link to each newsletter at the bottom that comes back to the website.
These readers may have signed up for the newsletter on a tournament signup sheet, so this is totally understandable, but something I hadn't considered.
I am not going to do an analysis of all the questions, but 3 that I found most interesting, and that may be of interest to you.
The first was question 4.  What do you think of the frequency of the Tactics Time e-mail newsletters?
I never want to "spam" anybody, but at the same time, I think it is important to look at tactics on a regular basis (daily if possible). 
I know people are getting more e-mail than ever, so was curious what the response was going to be.
It looks like most of the subscribers like getting an e-mail every other day, and some actually want more e-mails, and 14% want fewer emails.
In response to this, I took Sundays out of the delivery loop, so now there will be 6 e-mails every two weeks instead of 7.  So they will be slightly slower, but not so much that most people would notice.
Another question was:
5. What do you like best about the Tactics Time e-mail newsletter if you are a subscriber?
I was really flattered by the results!  Thanks so much!  Here is an unedited sample:
It is very consistent with newsletters, and each time it has a great topic.
I really like the full game score that accompanies the puzzle. It gives great context and another study tool for students.
Solving the tactic (duh!)
Getting a tactic in the mail every 2 days
I like that you give the entire game moves
I like receiving new tactics to keep on doing chess because there are periods where I don't do chess.
I really like everything about it. The informal writing style is engaging. The length is perfect for a quick read in my lunch break. The lessons are clear and valuable. I really like the variation of themes and sources. It is perfect for me, as a player returning to chess since I was on my school team 23 years ago!
I like doing the problem, and also having the complete game makes it more satisfying. We do not have a chess club in my area and the newsletter keeps me interested, since I feel that over-the-board chess in some places is dying
I really enjoy that you include the entire game which leads up to the position as well as presenting the actual tactic which clinches the deal.
it's free
It give me a quick practice problem and then some pleasant patter, which sometimes guides me somewhere else for a chess-related topic.
I like the tactics but also the chess things I don't know about. Web sites I didn't know existed, ways to learn chess, names of mates, etc.
The variety, the general information, really I like it all
I always learn something from them and it keeps my interest levels up
Quick Reads, Local Players, Sense of Humor
Quick bite size chunks of information, nice for a quick read.
Like the humor. Like being able to go at my own pace.
Getting a cool tactic via email
The brevity of the newsletter – it generally doesn't take but a few minutes to read and be done. Podcasts are good.
Everything – position puzzles, associated stories, and quotes
Experiences related. Chess stories. Quotations about chess and life. Explanations of games.
Good variety of puzzles, some easier, some harder.
Nice reminder to solve chess problems
Insightful chess instruction packaged professionally and in the right amount. Well researched and footnoted.
Local players
They are from real games by many people I know.
The chess games
An easy way to add basic patterns into one's brain! It's more about quantity than quality. the idea is to increase the number of basic patterns.
The puzzle and the story
I like to have an, almost, random tactic every couple of days in my email. I have books and stuff like that, but after a while you pretty much memorize all the variations! Having tactics from real games and players constantly keeps you from memorizing the variations and actually look hard.
Most are fairly simple and easy to follow.
Good variety.
THE WAY IT IS EXPLAINED, VERY DETAILED.
simplicity, clarity, composition and nice story (comments): it will be great if the archives (all the previous issues) is possible (in PDF format) to download (from the site).
I like the quote of the day
Thanks!
Quotes
Gives me a regular kick to to some chess training
Nice tactical education.
I can figure most of them out, but do miss a few.
The variations of the puzzles
the brief proverb at the top.
nice graphics
Very interesting information being passed along.
I like the stories behind the games and the podcasts even though my puter is so slow I have to read them as opposed to listening.
The variety of information both local and national
That's it's just the 'right' amount of e-mail's and that it's simplistic with a very sharp and clear analysis, matched with beautiful look. Also the difficulty is 'just right', meaning that some days I figure it out and others times I don't and the answer is provided and explained thoroughly.
Nice challenge. Some interesting side lights.
like detailed explanations
The inclusion of a puzzle.
It's short; to the point; interesting.
It reminds you to study tactics every day, which is great for you chess development.
I like that the original game is shown so you can look through it.
something to look forward to
Done with care and enthusiasm
Large clear diagrams.
its all good
It's well laid out and informative
Wow!
Thanks so much!
I certainly saw some patterns about what people like.
Based on the feedback, I will start adding more stories into the newsletters.  I have quite a few good chess stories that I can add, and I have some good chess stories from my friends as well. 
My favorite story is probably the one where a kid stole my sunglasses when I played in a tournament in Florida, and my friend Pete (who is a professional security investigator) and I hunted him down like a dog Jack Bauer style!
Personally I think I like the quotes part of the newsletter the best.  I love a good quote!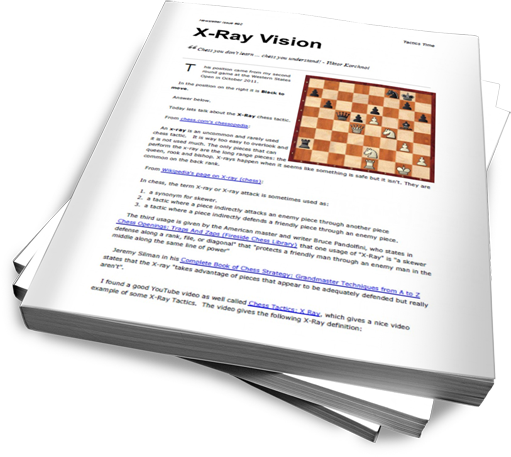 I also decided to add an archive of all of the newsletters in PDF format as a bonus to Tactics Time customers.
I felt like most readers "get" what I am trying to do, which is provide a fun, free, painless, quick and easy, "bite sized" chink of chess knowledge that is practical, and can help you in your games.
We are all super busy, and own a bunch of chess books that we want to get to "some day".  Getting chess tactics via e-mail is an easy way to supplement your chess studies when you don't always have the time or energy to devote to it that you would like.
Problem Difficulty Question
This was also very interesting to me.  The results form a bit of a bell curve, which is what I would have expected.
This is a topic that comes up every once in a while where a person will unsubscribe because the newsletters are "too easy" for their powerful brain

So based on this feedback I think I will keep the problems about where they are.
Thanks again for all of the responses!
Related posts: