If you would like to help your friends improve their chess skills, why not encourage them to sign up for the Tactics Time Chess Newsletter!
I created this signup sheet that you can print out, and take with you to your chess club, or give to your students if you are a teacher.  Click on the image below to open a PDF that you can print out!
If you do not have access to a printer, you can just use a regular piece of paper as well if that is easier.
E-mail me at Tim@tacticstime.com with any signups and referrals. 
Remember the newsletter is free and comes out every other day with an original tactics problem.  There is no obligation, no cost, no spam, no hassle, and an automated one click unsubscribe option included in every email.
All of the tactics are taken from real games, and are designed to help improve your chess skills, and raise your chess rating!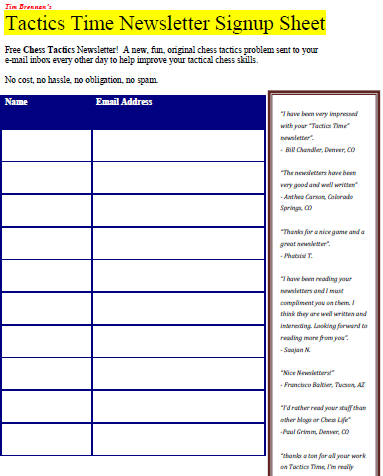 I appreciate all of the support and complements I have gotten from the newsletter, and thanks for helping me to spread the word!!
Related posts: