Thanks for checking out the Tactics Time Podcast Page!
All of my podcasts are free, and meant to be fun and entertaining.  I love a good chess story!
The podcasts cover a wide range of topics, and are mostly interviews and conversations with friends of mine that I have known for years on the Colorado Chess Scene.
Here are some topics that have been covered to give you an idea of what they are like:
Reviews of Chess Movies like "Queen to Play" and "Bobby Fischer Against the World"
A funny story where a kid stole my sunglasses at a chess tournament, and my friend Pete and I hunted him down like a dog halfway across the state of Florida to get them back
Teaching chess to children and some of the funny things you see when doing this
Stories about how people got into chess and what they like about chess
Ideas from people about how they improved, and lessons they learned on their journeys
Favorite Chess books
Tournament reports
And much more!
I've had people from all over the world tell me they enjoyed listening to them.  Even people who don't play chess themselves have told me they liked them!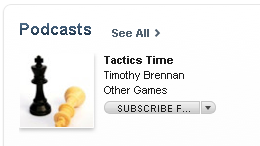 You can subscribe to the Tactics Time Podcast on iTunes. Search for "Tactics Time" in the iTunes store, or online at http://itunes.apple.com/us/podcast/tactics-time/id436422044. Or check out the individual links below that link to the associated podcast's blog post, where you can download them, or listen right on the webpage.  All podcasts are in MP3 format.
Anthea Carson Interview May 5, 2011
Fred Spell Interview May 14, 2011
Paul Anderson Interview May 22, 2011
Pete Short Interview May 29, 2011
Isaac Martinez September 19, 2011
James MacNeil September 26, 2011
Chris Peterson January 16, 2012
Randy Reynolds January 25, 2012
Anthea Carson "The Dark Lake" March 3, 2012