You can now subscribe to, and download the latest "Tactics Time" podcasts in the iTunes store!
Click this link to go there now:
http://itunes.apple.com/us/podcast/tactics-time/id436422044

For more information on subscribing to podcasts in iTunes visit http://www.apple.com/itunes/features/#podcasts
You can also search "Tactics Time" in the iTunes store.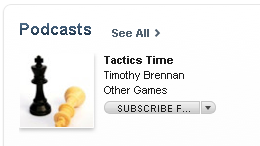 I have several more interviews lined up as well! 
Related posts: