If you love chess tactics, chess improvement, and winning chess games as much as I do, you will want to sign up for my FREE Tactics Time Chess Improvement e-mail Newsletter.
The Newsletter is where I publish all of my best stuff.
In my FREE Chess Tactics Newsletter, You'll Learn:
How to create BEAUTIFUL combinations and stand out from the competition
An easy, effective way to tell if there is a killer move in the position so you won't miss one ever again
Secrets to winning more games, raising your rating and crushing opponents
How to get over your fear and frustration of losing – no matter how unsuccessful you've been in the past
Tips for using psychology and your mind in ways you may not have considered before.
The secrets of Chess Tactics – and valuable tactical patterns that come up over and over again
The Tactics Time Newsletters each contain:
a Chess Tactics problem to solve
Interesting Quote related to the topic
The complete game score (along with a link to an online click and move version of the game)
An interesting story or idea related to the topic of Chess Tactics and Chess Improvement.
The answer to each tactics problem is given with a verbose explanation of why the move works.
Here are some sample newsletters that you can look at to get an idea of what they are like: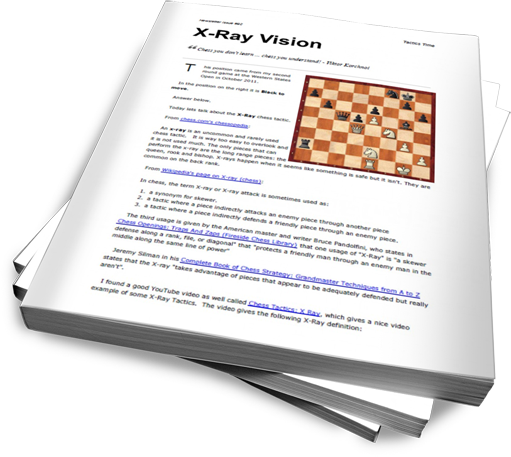 Each subscriber starts off with Newsletter #1, so you won't miss a single issue. New newsletters are automatically delivered about 3 times per week.
There is
no obligation
no cost
no spam
and you can unsubscribe hassle free at any time.
Each issue contains one tactical problem, and I hold your hand going through the solution step by step, making tactical study painless and fun. These are "paint by numbers" chess tactics that will slowly but surely improve your play and rating. And if you have any questions about the problem, I am happy to help!
Each newsletter contains the full game score in PGN format, so you can copy and paste it right into your favorite chess software program, such as Fritz, Chessbase, Chessmaster, ICC, etc, and play through the game, examine the computer analysis, or see how the game was finished.  There is also a link to a online version of the game you can click through.
I include lots of different types of tactics including:
Checkmates (smothered mates, Anastasia's Mate, Legal's Mate)
Opening Tactics (Miniatures, traps, and common tricks in certain openings)
Offbeat openings (The Grob, The Fishing Pole, The Raccoon)
Standard tactics (knight forks, skewers, pins, overloaded piece)
Unusual tactics (checkmate with just a knight, multiple queens on the board)
Endgame tactics (pawn pushes, really long games, zugszwang)
Most of the tactics and solutions are 2-3 moves long.  A few are only one move, and a few are 4-5 moves long.  Most of the positions are taken from amateur class tournament players, and all are taken from real games. 
Depending on your skill level, you might be able to solve them instantly, or might need a few minutes, or need to look at the solution.  But I am certain they can help the play of 90% of the chess players out there.
Here is some of the unsolicited feedback I have gotten from the newsletters:
I really enjoy reading your newsletters
– Devina R.
Thanks for a nice game and a great newsletter.
– Phatsisi T.
These are fascinating articles you posted. I really appreciate the work you are doing to improve the chess playing abilities of the masses.
– Paul K.
I'd rather read your stuff than other blogs or Chess Life
– Paul G.
   These newsletters contain my BEST ideas on the subject of chess and chess improvement, and I have got a ton of really positive feedback on them.
   Here are just a few of the topics and ideas that you will learn about in these easy to read, bite sized lessons:
The Arabian Mate, one of the oldest checkmating patterns in the game
The Assassin Pawn, an underestimated, deadly but silent killer on the chess board
Exploiting your opponent's weaknesses right in the opening – attacks on the f2 and f7 squares
The "Noah's Ark trap" that is as old as Noah, but catches victims on a daily basis, winning a piece for black in the Roy Lopez.
The above mentioned "Fishing Pole", which leaves your opponent a mine field of tactics to navigate, and was used to take out 6 time US Champion Walter Browne in 15 moves by my friend Francisco Baltier who was rated 1500 at the time.
Beautiful smothered mates for black right out of the opening in the Budapest Defense.
The "Greek Gift" sacrifice, and why you might not want to beware Greeks baring such gifts.
Having a winning, never surrender attitude
The Killer Grob, and some of the dangers for black if they underestimate this "Unorthodox" opening
Mid field tackles and King Hunts
Recommended free resources to supplement your chess tactics study.
Counter gambits that you can play as black, which are always exciting
Ideas in The Budapest Defense, which is a fun opening to play against 1. d4 2. c4
Swashbuckling Tactics in the King's Gambit, one of my personal favorites.
The Raccoon opening, and some of the tricks to look out for, so you don't get rabies.
The "Hook Mate", which comes up frequently over the board
A review of the chess tactics basics
The really weak and not recommended Damiano Opening and a step by step way to crush it.
The scary Halloween Attack, where you give up a piece for a frightening initiative.
A 4 move game with a shocking tactical ending.
Examples of punishing a weakened kingside pawn structure.
Overloading a piece, giving it too many balls to juggle at one time
The unusual checkmate of King and Knight versus bare king.
Absurd underpromotions where a 3400 rated computer is beat by a King and 6 Knights
The unusual "Crab" opening, and how to turn it into Crab Dip.
Legal's Trap, which even very strong players fall for.
Typical pawn pins that come up over and over again, and how to exploit them.
Dangerous Queen checks and double attacks.
Tips on how to punish an unusual opening, and avoid any traps that may be lurking in them.
The beautiful Anastasia's Mate, which is very fun to play.
Tips on chess psychology, and how to avoid being "psyched out" by your opponent.
"In between moves" and other hard to find, and often over looked tactics.
The Evans gambit, and some of the motifs that both sides need to look out for.
A clever trap in the Dutch opening that is good to know.
Bishop sacrifices on f7 and h7 that come up all the time
The Icelandic gambit, where white needs to be careful to not slip and fall on a tactic.
Endgame tactics, where a nice quiet move can be the game winner.
The Blackburne Mate, which is rare, but a valuable pattern to have in your arsenal.
The soul crushing Windmill attack.
Debunking some of the typical (and often harmful) chess advice that is out there.
The "most important tactic", and it is one that isn't even mentioned on this page.
Tips on how to study chess tactics.
Information on how to use your brain most effectively.
The powerful back rank mate
Trapping pieces, and which ones to look out for, such as knights on the rim.
A brilliant stalemate and other unlikely resources to save a game
The best way to learn chess (it's probably an idea you have never considered).
How to recover and deal with your losses.
The "Threat Pin" which helps you understand when a piece can move or not.
Avoiding stupid blunders.
Advice from some of the all time chess greats.
The multiple levels of learning, and how to take your game to the next level.
The Double attack, and how this is the foundation for most chess tactics.
The underused, and often misunderstood X-Ray attack
The importance of looking at forcing moves
A mental checklist that you can use to make sure you never miss a tactic again
The idea of "LPDO" – Loose Pieces Drop Off
and much more including player profiles, chess movie reviews, chess stories, chess book reviews, chess website reviews, and many other fun and interesting ideas.
Here is some of the anonymous feedback I got about the newsletters and why people like them after doing a recent survey
It is very consistent with newsletters, and each time it has a great topic.
I really like the full game score that accompanies the puzzle. It gives great context and another study tool for students.
I like that you give the entire game moves
I like receiving new tactics to keep on doing chess because there are periods where I don't do chess.
I really like everything about it. The informal writing style is engaging. The length is perfect for a quick read in my lunch break. The lessons are clear and valuable. I really like the variation of themes and sources. It is perfect for me, as a player returning to chess since I was on my school team 23 years ago!
I like doing the problem, and also having the complete game makes it more satisfying. We do not have a chess club in my area and the newsletter keeps me interested, since I feel that over-the-board chess in some places is dying
I really enjoy that you include the entire game which leads up to the position as well as presenting the actual tactic which clinches the deal.
it's free
It give me a quick practice problem and then some pleasant patter, which sometimes guides me somewhere else for a chess-related topic.
I like the tactics but also the chess things I don't know about. Web sites I didn't know existed, ways to learn chess, names of mates, etc.
The variety, the general information, really I like it all
I always learn something from them and it keeps my interest levels up
Quick bite size chunks of information, nice for a quick read.
Like the humor. Like being able to go at my own pace.
Getting a cool tactic via email
Everything – position puzzles, associated stories, and quotes
Experiences related. Chess stories. Quotations about chess and life. Explanations of games.
Good variety of puzzles, some easier, some harder.
Nice reminder to solve chess problems
Insightful chess instruction packaged professionally and in the right amount. Well researched and footnoted.
An easy way to add basic patterns into one's brain! It's more about quantity than quality. the idea is to increase the number of basic patterns.
The puzzle and the story
I like to have an, almost, random tactic every couple of days in my email. I have books and stuff like that, but after a while you pretty much memorize all the variations! Having tactics from real games and players constantly keeps you from memorizing the variations and actually look hard.
Most are fairly simple and easy to follow.
THE WAY IT IS EXPLAINED, VERY DETAILED.
simplicity, clarity, composition and nice story
I like the quote of the day
Gives me a regular kick to to some chess training
Nice tactical education.
The variations of the puzzles
the brief proverb at the top.
nice graphics
Very interesting information being passed along.
The variety of information both local and national
That's it's just the 'right' amount of e-mail's and that it's simplistic with a very sharp and clear analysis, matched with beautiful look. Also the difficulty is 'just right', meaning that some days I figure it out and others times I don't and the answer is provided and explained thoroughly.
Nice challenge. Some interesting side lights.
like detailed explanations
It's short; to the point; interesting.
It reminds you to study tactics every day, which is great for you chess development.
I like that the original game is shown so you can look through it.
something to look forward to
Done with care and enthusiasm
Large clear diagrams.
its all good
It's well laid out and informative
And as a sincere "Thank You" for signing up for the newsletter you will receive the following free gifts:

A 25 game sample of my Tactics Time database product. You will get a chessbase database contains 25 different tactics problems. This database works with Chessbase Reader, which you can download for free. It will also work with any other Chessbase product that you may already own, such as Fritz, Chessbase, Chessbase Light, etc.
Each tactic comes from a real game, between real chess players. You will be able to play through the complete game to see how the position arrived, and how the game was concluded.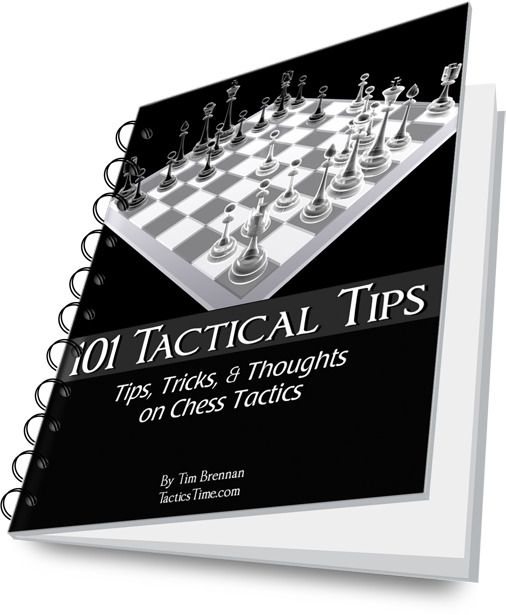 Additionally you will receive my 34 page eBook "101 Tactical Tips: Tips, Tricks and Thoughts on Chess Tactics". This report contains my best and original ideas on the thoughts of chess tactics. Included are ideas on:
Tactics in the Opening
Books on Tactics
Using your computer to find Tactics
Quotes and Wisdom about Tactics
Tactics Improvement
Tactics and Psychology
Tactics in Tournament Play
Tactics in the Endgame
Tactics in Blitz and Correspondence Chess
Tips on Studying Tactics
A full 3 page Bibliography with lots of additional resources on Tactics is given as well.
But WAIT… THAT'S NOT ALL!

Additionally you will receive
- PDF version of the 25 problems in the sample database, which you can print out, or read on your computer, or any mobile device that supports PDFs.
- Mobile Device eBook versions of the 25 problem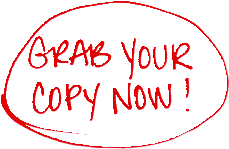 s that can be read on the iPad, Nook, Amazon Kindle, and most mobile devices.
These FREE gifts are my way of saying "Thanks" for reading my web site, and for all the support and complements I have gotten from the website and Tactics Time product.
You can sign up using the signup form on the right side of the page, or the form below. 
You will receive an email asking you to confirm your subscription.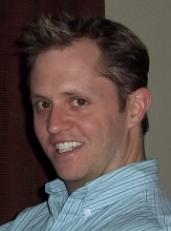 Thanks, and enjoy the newsletter!
Your Friend,