When you learn, teach. When you get, give. ~ Maya Angelou
Today I want to talk about another idea that I think you can use to improve your chess game.
That idea is to teach others.
Most of the time when we learn something, we quickly forget it.
learners retain approximately:
5% of what they learn when they've learned from lecture.
10% of what they learn when they've learned from reading.
20% of what they learn from audio-visual.
30% of what they learn when they see a demonstration.
50% of what they learn when engaged in a group discussion.
75% of what they learn when they practice what they learned.
90% of what they learn when they teach someone else/use immediately.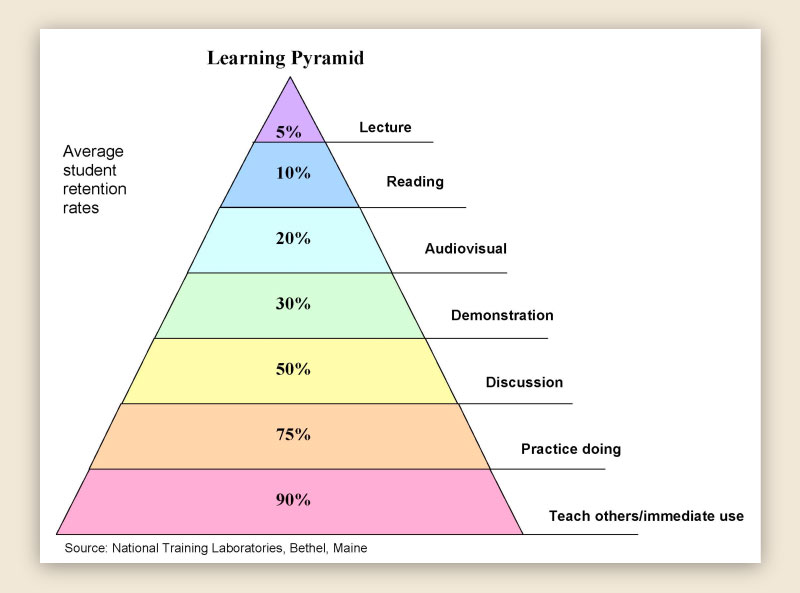 So when you teach someone, you learn it the best. This is because you are forced to actively use your brain when teaching.
  I know that just writing this blog and my Tactics Time e-mail newsletters has helped me in my own chess games. I can think of specific games, and positions where a tactical motif came up that I had written about.
   For example, recently I was playing Isaac Martinez in a USCF rated G/90, when I thought to myself, "Self, There is a possible Hook Mate!" I understood this pattern really well from writing about it.
   When I got the chance to play it, I whipped it out, and Paul Covington, who was watching the game said "Nice Checkmate!" My girlfriend was there that night too, so I felt extra cool

   Some ideas how you can use the idea of teaching to improve your own chess game
Write an article for your local chess club or state chess magazine. As a former editor, I know they are always looking for good content. I was normally happy to even get bad content
Create a "Tactics Time Guest Newsletter", and I will send it out to my subscribers.  (You do not need to worry about the formatting, just e-mail me the content).
Write a chess blog, or comment on other people's blogs.
Create a YouTube video where you explain some chess idea. You can even do it using puppets and costumes, like Anthea Carson and I did when promoting her book, How to Play Chess Like an Animal
Answer questions on chess forums, such as the one on reddit.com, which tends to have a lot of beginners.
Teach a child or friend to play.
Ask yourself "If I had to explain this idea to someone, how would I do it"?
Print out some of my newsletters, and explain the tactics in them to someone who is just learning the game.  In the recent podcast that I did with Randy Reynolds, he mentions that he often uses my newsletters to teach his elementary school aged students.
Post about chess on facebook and twitter, sharing a lesson learned from your latest game.
Teach your cat if no one else is around
   I am sure you can come up with lots of additional ideas yourself.
   If you have any good ideas on this subject, please add them in the comments below!
Related posts: