My good friend Pete Short send me this picture, which was featured today on http://sports.yahoo.com, and the following commentary: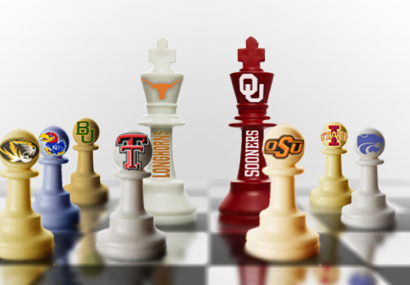 I love that Chess references are always used in sports. Here is an image from a Yahoo article titled "Checkmate?" about the swirl in the Big 12 and conference realignment.

Unfortunately, in addition to the Big 12 teams being in an impossible situation with every team for itself, greed, and playing in a sub-par conference – the OU and UT Kings are sitting in an illegal position.

Like Shannon's illegal move in the Levy – I'm going to announce Mate in 4 with OU and OSU going to the Pac 12, Texas leaving for the ACC so that they can keep the millions rolling in for their lucrative ESPN Longhorn Network (The Pac 12 and SEC have too many revenue sharing agreements on TV Contracts that Texas will not like), and Texas Tech following obediently behind their big brother UT.

And to make matters worse, there are six different colored pieces on the board which only goes to prove my point – the media never sets up a board correctly when they make a chess analogy.
 Funny stuff Pete!
Other news and notes:
I will be playing in the "Wild Boar Coffee Rapid #6″ this weekend in Fort Collins.  I have never played at any of the Wild Boar tournaments, so I am looking forward to it!  I may write a review, comparing it to the Pueblo Coffee House tournaments.  Here is the website, for the site, which looks like a neat place: http://www.wildboarcoffee.com.
I will be joined by my friends Paul Grimm, and J.C. MacNeil, who you may recall, were also the ones who joined me for a game of chess on top of Mt. Evans.
I used to love Boy Scouts when I was growing up.  I was happy to see that the Boy Scouts just added a Chess Merit Badge.  I didn't really get into chess seriously until I was an adult, but if this merit badge had been around when I was in scouts, I might have started earlier!
The Scout Badge launch coincided with the launch of the new World Chess Hall of Fame in St. Louis.  I would love to go visit this!
I'm looking for some new people to interview on my Chess podcast.  If you or someone you know might be interested, send me an email at Tim (-At-) TacticsTime.com.
I am also looking for additional "Testimonials" to add to my Quote Rotator widget that is featured on the sidebar of my website.  I lost all of my previous quotes, because of a Word Press Plugin that didn't work, so had to dig through my old emails to find the ones I had previously used.  If you enjoy this website, The Tactics Time Chess Newsletter, the podcasts, or my Tactics Time Chess Training Product, I would love to add a quote from you!
Related posts: