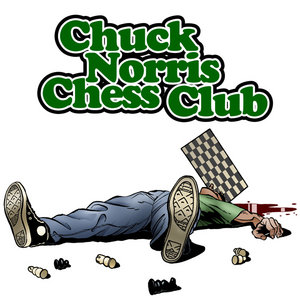 My Friend Pete sent me this image, which kicked off a chain of Chuck Norris Chess Jokes.  I found a few more on the internet that people came up with.
Chuck Norris did play chess, he solved it the first and only game he played.
Chuck Norris beat Garry Kasparov by using only one pawn.
Chuck Norris can move his pawns backwards.
There are no checkmates in chess, there are only Chuck-mates.
Chuck Norris can call his knight a horsey and nobody laughs at him.

Chuck Norris opens with the roundhouse defense…

1. a4
2. h4
3. checkmate

It is impossible to play chess with Chuck Norris, nothing advances towards Chuck, EVER.
Chuck Norris is so tough, even his pawns have six-pack abs.
Chuck Norris can promote his pawns to kings.
Chuck Norris' pieces can't be captured — just momentarily stunned.
Chuck Norris does not resign when in a losing position because Chuck Norris has never been in a losing position.

Chuck Norris: "Checkmate."

Opponent: "But the game hasn't even started."

Chuck Norris: "Value your spleen?"

Chuck Norris says Mate in 5 before even starting the game.
The queen in chess was originally called the Chuck Norris. It can take any piece, even the king, at any time.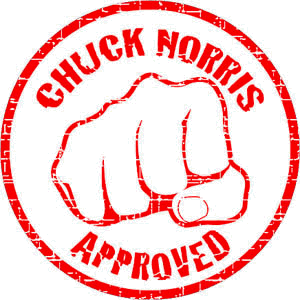 This is what every score sheet looks like when Chuck Norris plays white

W: Charles Norris
B: (Anyone)
1-0   Forfeit

Chuck Norris once under promoted a pawn to a pawn.

Chuck Norris is not limited to 64 possible squares for his pieces to move

Chuck Norris resurrects Bobby Fischer from his grave to play chess with him, then after winning every game, kills Bobby Fischer with a round house kick and reburies him until there next match.

If Chuck Norris played Chuck Norris in a game of chess – it would never end but go on with an infinite number of moves.  No one has ever beaten Chuck Norris.

Chuck Norris' FIDE Rating is ∞
If you have any good Chuck Norris Chess Jokes let me know, and I will add them!
---
I will be playing in the Loveland Open this year in Februray, with special guest star Francisco Baltier, who is coming in from Tucson for the weekend. We are going to go skiing on Thursday and Friday, then play chess on Saturday and Sunday.
Should be fun

Here is the TLA:
Loveland Open, February 11 – 12, 2012
4 round Swiss system tournament.
Time Control: 40/2 G/1
Site: Larimer County Fairgrounds, McKee Community Building, 5280 Arena Circle, Loveland, CO 80538.
Directions: I-25 to exit 259. Head East to Fairgrounds Ave. light and turn left. Watch for the arched entrance on the left.
Open: Open to all USCF members and unrated.
Reserve: Open to all USCF members rated < 1600 and unrated.
Entry fee: $35 ($30 if rec'd by Feb. 9th)
Prizes: Based on entries.
Registration: 8-9:30 AM, Rounds: 10 AM, 4 PM; 9 AM, 3 PM..
Entries: Randy Reynolds 1839 Thyme Court, Fort Collins, CO 80528
Phone: 970-310-4224
E-mail: randy_teyana@msn.com
25% discount off advance entry fee if Junior, Senior, or unrated.
Nice!
I found a bug in Fritz 13 when running "Let's Check".
It seems like the "Let's Check" function will freeze if you get a position that has a forced mate in it.
I want it to run 24 hours a day with the contribute engine function, but whenever it gets a deep endgame position, it seems to freeze up. I have seen this multiple times.
I wrote the chessbase people, and they actually sent me a response, which surprised me.  Hopefully they can fix this – should be easy to reproduce.
From Klaus Johnson:

Just a reminder that registration for the 2012 Colorado Correspodence Championships ends on December 15th.  Lee needs to have your entry fee* ($20) by then or at least a promise to pay by that time.  Once I have the roster, I'll send the request into Alex Dunne and we should start the tournament the first week of January.  If you have any questions, please let me know.
Happy 21st Birthday to Magnus Carlsen today!
Jennifer Shahade posted this "Chess Reality Show Trailer" on her facebook page.  I can't really tell if it is a joke or not, but I would watch it lol
 I surpassed over 200 subscribers to my free chess tactics e-mail newsletter!  Thanks to everyone who has checked it out, and encouraged their chess buddies to sign up also!
Also, if you ever need to change e-mail addresses, just let me know.  I can add the new address, and switch it so that you can pick up where you left off.
If you have friends or students who are interested let me know, and I can send them an invite as well

Related posts: