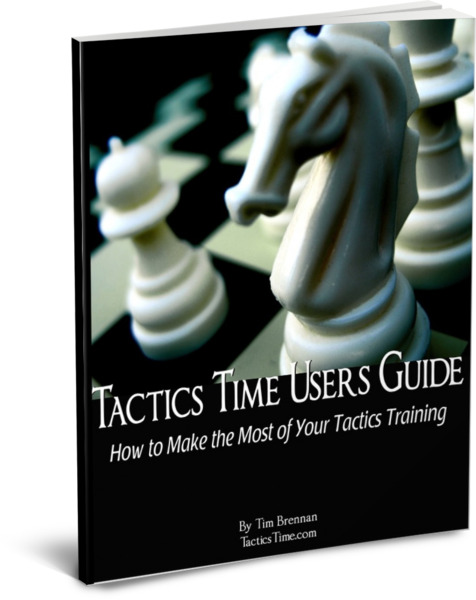 Based on some feedback that I got from one of my customers, Dan in England, I wrote a Tactics Time User's Guide.  You can read for free here.
   In the book I give some tips on:
How to use Chessbase products like Fritz and Chessbase
Why it is important to study chess tactics
The different types of existing chess tactics products, and what is good and bad about them
Various study plans for studying tactics
Goal setting
How I discovered the "secret" of chess tactics and their importance
and much more.
   My good friend Pete Short wrote an awesome Foreword for the book, which is presented here.  Pete is a very gifted writer, with a great sense of humor!  Thanks Pete!
 
Pete wrote:
 
   When Tim asked me to write the foreword for "Tactics Time User's Guide"  that he had just completed, I asked "why me?" on the inside.  But to Tim, my answer of "Yes!" might have seemed too eager and abrupt.  After all, I am not a titled player, coach, author, innovator, or entrepreneur.  I'm just a chess enthusiast.
 
   I will admit that at times I have been one of the most enthusiastic chess players that Tim has ever known.  But I am just that, a friend who has played thousands of speed chess games against him; talked for endless hours about chess, its history, and its great players; and traveled with him to countless tournaments coast-to-coast.
 
   But in actuality, I am the perfect person to write the foreword because this program and user's guide was written specifically for me, a player with average playing ability who wants to improve his game and his rating through a healthy regimen of studying tactics.
 
   Tim was the first person I knew who solved the riddle that countless grandmasters like Tal, Nimzowitsch, Fischer, Tartakower, Reshevsky, and Kasparov have known all along.  To quote Rudolph Teichmann, "Chess is 99% tactics".
 
   For the last decade, I have shared Tim's passion for learning that the essence of chess strategy is taking advantage of the tactics it produces.  You should spend time learning opening theory, middle game strategy, and understand how to win in the endgame.
 
   But if you spend all of your time memorizing the lines that result from 1.e4 and do not appreciate the beauty of pins, forks, gambits, and well-timed sacrifices, you may find yourself feeling violated by a swindler like Tim Brennan.
 
   No one ever re-won the lost game in post-mortem analysis.  "Yes, at move 28 you did have a better position, your pawns were stronger, materially you were ahead, and my hats off to you for playing the exact line that Karpov implored at Linares in 1985 well into the middle game.  But a smothered mate is a smothered mate."
 
   If you are a tournament player and if I could dissuade you from using this product and following Tim's program, I would.  After all, it's not going to help my rating if everyone else improves their game as well.
 
   Pete Short
   Elizabeth, Colorado
Related posts: