Here is an example of the power of the "Let's Check" functionality in Fritz 13, which is really impressive.
I submitted a game I played on Wednesday night against Paul Covington using the "submit game" feature.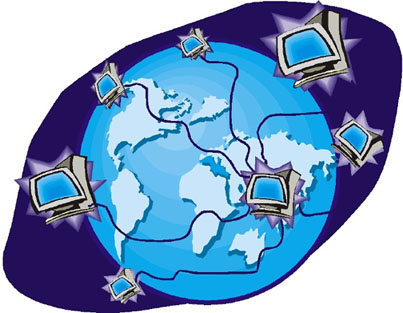 This takes the game, and
breaks in into unique positions after each move
distributes each position to people who have volunteered to let their computer work on evaluating positions that others have submitted
then saves their results, that anyone can then access
Nice!
Below is a snippet of the output.
For example with
6…cxd4 [0.02/0]
 [6…d5 7.0–0 Qb6 Deep Rybka 4.1 x64/derkranvonhuenge -0.06/18]
6…cxd4 is the 6th move that Paul played.  This was evaluated as being a 0.02 (2 hundredths of a pawn better for white).
Below that is the recommended move, which was to play 6…d5, which would give a .06 of a pawns advantage to black (the negative means it is to black's advantage).
The computer used was Deep Rybka 4.1 and the username is derkranvonhuenge (Gesundheit!).
The 18 means that it went to 18 ply. (each individual move is 1 ply)
So basically, I submitted a position, and then an army of computers all around the world went to work figuring out an evaluation of every single position in the game.
After it was done, I could use the "Let's Check Analysis" button, which retrieved all of the information that others has posted, and put it automatically into the game.
All together this took about 3 mouse clicks!
Wow!  This is AMAZING!!
Below it is a sample from the first 10 moves. 
(1741) Brennan,Tim (1741) – Covington,Paul  (1969) [A48]
Panera Wed Nov 2011 (3), 16.11.2011
[Engine/Game Correlation: White =  22%, Black =  37%.]
1.d4 Nf6 2.Bg5 g6 3.Nf3 Bg7 4.e3 0–0 5.Bd3 c5 6.c3 [-0.06/0]
cxd4 [0.02/0]
[6…d5 7.0–0 Qb6 Deep Rybka 4.1 x64/derkranvonhuenge -0.06/18]
7.exd4 [0.00/0]
[7.cxd4 h6 8.Bxf6 Deep Rybka 4.1 x64/derkranvonhuenge 0.02/18]
7…d6 [0.05/0]
[7…d6 8.0–0 Nc6 Houdini 2.0 w32/koxoel 0.00/21]
8.0–0 [0.04/0]
[8.0–0 Nc6 9.Nbd2 Houdini 1.5 x64/LondonFlip 0.05/22]
8…Qb6 [0.21/0]
[8…Nc6 9.Nbd2 h6 Houdini 1.5 x64/fnord 0.04/21]
9.Qb3 [0.23/0]
[9.Qb3 Qc7 10.c4 Houdini 2.0 x64/Bymssteyn 0.21/23]
9…Qa5 [0.32/0]
[9…h6 10.Bxf6 Bxf6 Houdini 2.0 w32/Lindam 0.23/21]
10.Nbd2 [0.40/0]
[10.Nbd2 Qc7 11.Rfe1 Houdini 2.0 x64/Zirie 0.32/24]
10…Qc7 [0.33/0]
[10…Nc6 11.h3 Qc7 Komodo 32/Hob 0.40/20]
Related posts: